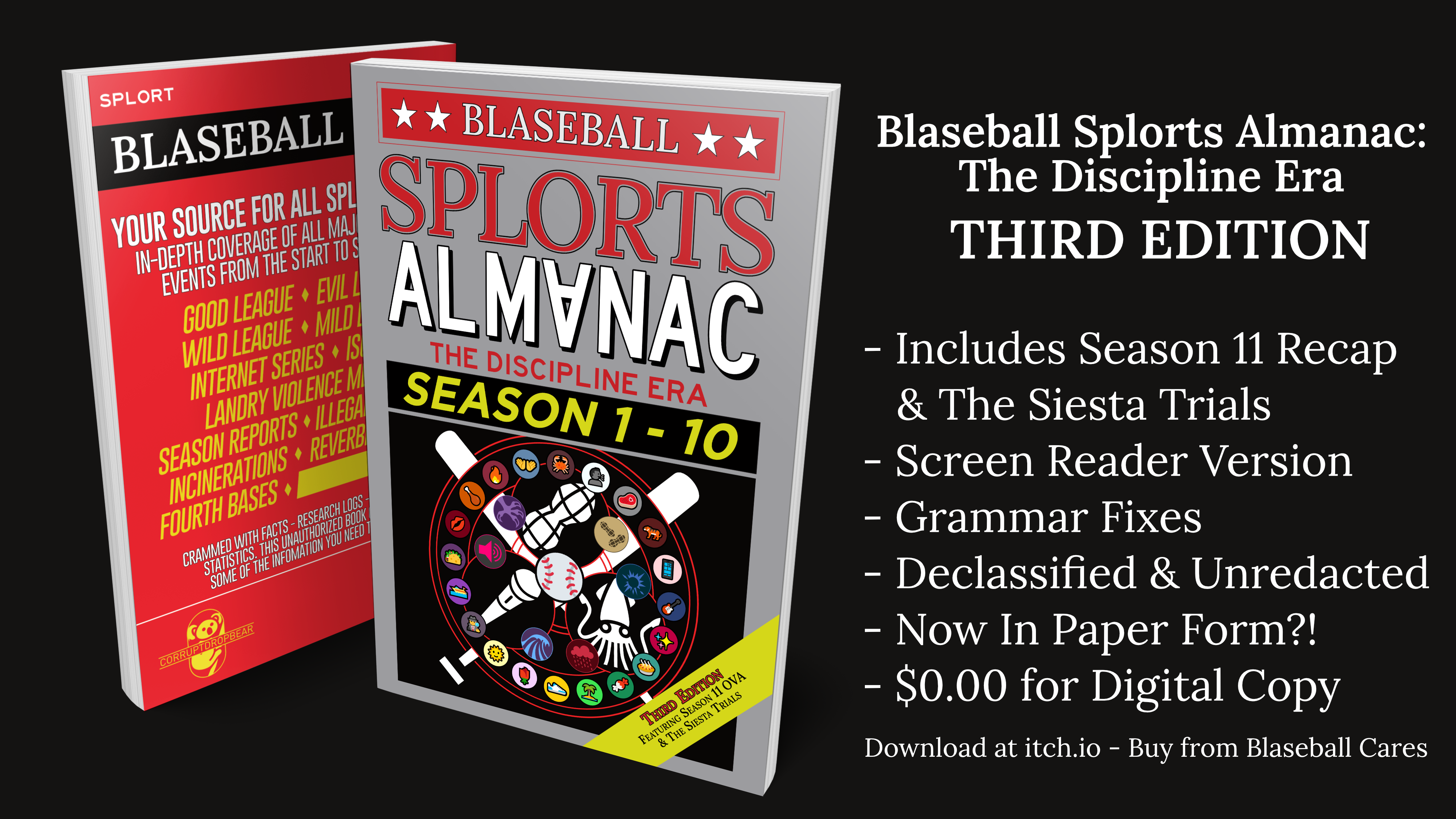 Blaseball Splorts Almanac: The Discipline Era
The Blaseball Splorts Almanac for The Discipline Era is a 73-page book giving a history of the first 11 seasons of Blaseball.
New in Third Edition:
A chapter on The Siesta Trials!
Removal of redactions! No more highlighting!
Better grammar!
Accessibility Version in .txt form for Screen Readers, Braille Displays or just your own User Fonts! (This is untested. If you find any issues, please comment or email mitchel at qualifiers dot stream)
FAQ
What is Blaseball?
Strictly speaking, it's a sports (or splorts) simulator for a baseball league, where the people watching can vote on how the league operates. Just like any good tabletop roleplaying game, the community immediately voted to go off the rails. Blaseball generally is considered under the genre of surreal horror/comedy.

Is this an official Blaseball book?
No. This book is not affiliated or endorsed by The Game Band (@thegameband). The game itself on blaseball.com is run by The Game Band. Blaseball is a collaborative fiction, and there is no canon interpretation outside of the core game mechanics - all takes are valid.

Why can't I buy the print copy from Blaseball Cares, it says "Taking A Siesta"?
Blaseball Cares usually only opens on Saturdays - this is so that the volunteer operation are able to process all the orders. Please check @BlaseballCares on Twitter for the next shop opening time.

Any differences between digital and physical?
Print has the print date on copyright page, digital has "free on itch.io" on copyright page. It's identical otherwise - I recommend having a look at this digital copy before buying the physical print.
Where does the money go?
All proceeds from the Blaseball Cares physical copy (after print and shipping costs) go to that season's charity. None of it is taken by Blaseball Cares or the author.

Any money tipped through itch.io for the digital copy (after itch.io's 10% shop cut) will go to the author and is greatly appreciated. Removed the tip cup, spend that money on some chocolate.

How to pronounce ∀?
All takes are valid. The accessibility version uses Turned A as the pronunciation (https://en.wikipedia.org/wiki/Turned_A).

Further questions?
Hit me up on Mastodon!

"Blaseball Splorts Almanac: The Discipline Era" by Mitchel 'CorruptDropbear' Huffa is licensed under CC-BY-4.0. To view a copy of this license, visit https://creativecommons.org/licenses/by/4.0.
Download